Sweet cheese and rice! Has it only been a week since we returned from our biogeochemical adventure? So much has happened since then but we'll get to that another time. My last post ended with Erin and I eating cookies and listening to Dua Lipa in Florida.  Well for the second half of the road trip our soundtrack was Camila Cabello. From Florida, we drove to Texas with a stop in Louisiana (no we did not go to New Orleans). Gunter transformed into a tent and we spent the night at a KOA right next to the Highway. After a sound sleep, we woke up early and finished our trip to Texas where we would be sampling Pringle Creek. The next day Gary from NEON showed us around the reach. Their setup was really cool and Gary was great telling us about all the instrumentation and how NEON operates.  After showing us around Gary left us to map the stream and that's when it happened. Driving out of the site our poor little lab van Gunter scraped his oil pan on a rock and started gushing oil (so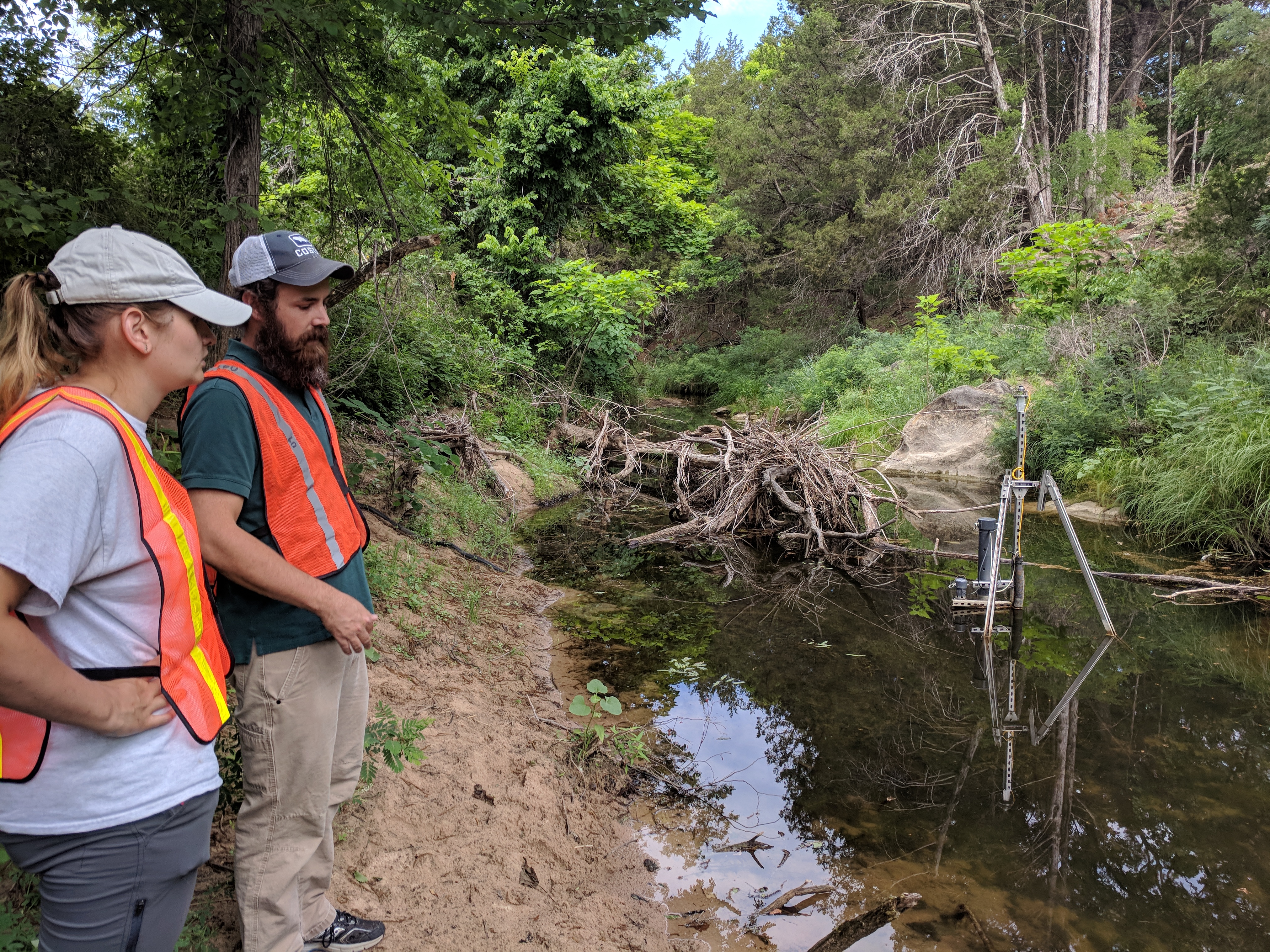 rry NEON for the mild contamination of the site). Wecalled for a tow and Gunter was brought to the shop where he would be stuck for over a week.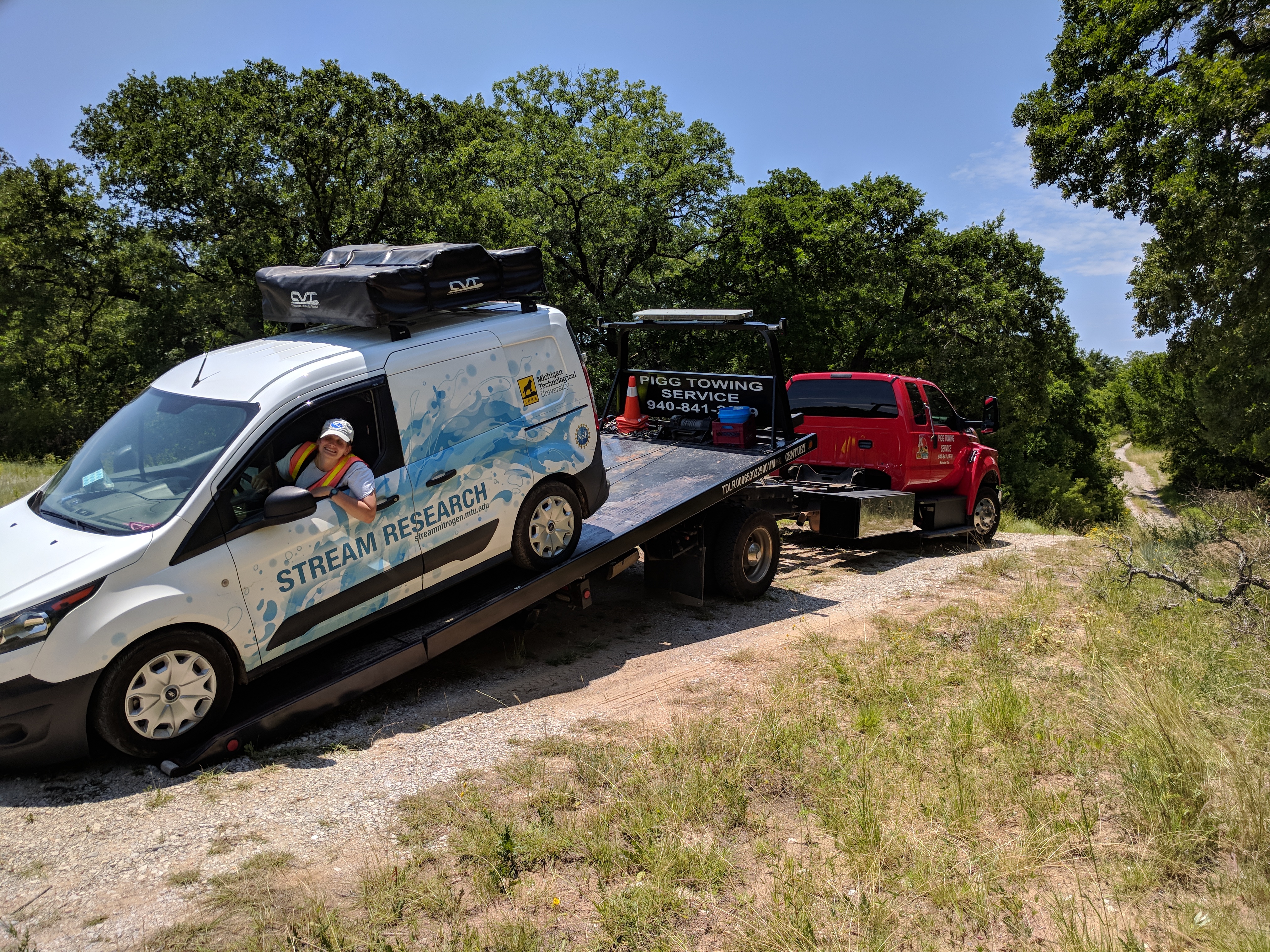 After a few tears and some ice cream to mourn our loss Erin and I got back on the case; after all, we had sampling to do, people to meet and a schedule to keep. We rented a pick-up and went back to Pringle the next day. It was a long day (because we had to make up for lost time from the day before) but we rocked it out and were off to Kansas and Konza Biological Station the day after.
Kansas was a bit of a surprise. The streams we went to sample turned out to be puddles and some of those puddles were just dry earth. James from the Dodds lab showed us around Konza. He warned us that there was not much water but it was crazy to see. The first spot we went to turned out to no longer have any water so we moved on. The next site was part of King's Creek but only turned out to be a puddle. We mapped and threw a MiniDOT in it anyway. The third site was kind of exciting as we had a close-up bison encounter but turned out to be too small to sample. No worries though, the ext day we headed to McDiffet, a NEON site. Joe and Evan were great and showed us around. Like King's Creek, it was more a series of pools than a stream but we found a pool big enough to sample and managed to complete it in the same day. Also, we found a sweet tree.
The next day it was back to King's Creek (or more accurately King's Puddle) for our last sample site of the trip. We knocked out sampling grabbed a beer with James, Sophie, and Maya (an REU in the Dodds lab) and were headed back to Texas. Don't worry Gunter we didn't forget you. To our dismay, Gunter wasn't ready to return home so Erin and I hit up the Dallas Aquarium. When we finally got the call that Gunter was ready we ran to give him a hug and started our trip back to Houghton, MI arriving on June 16th thinking we would get to relax after being away for four weeks.
Our dreams were crushed. That night we had an intense rainstorm which brought about a 1000 yr. flood. This resulted in a lot of destruction and, according to Ryan, the opportunity for some exciting science. Amy will let you know how it goes next time.