From MTU's Tech Today:
Michigan Tech was well represented at the 2018 Annual Meeting of the Society for Freshwater Science (SFS) in Detroit, MI May 20-24 by the Huckarelli lab in the Department of Biological Sciences, including Drs. Casey Huckins and Amy Marcarelli and 8 undergraduate (Andrea Norton), MS (Ryan Van Goethem) and PhD students (Christopher Adams, Colin Brooks, Brian Danhoff, Erin Eberhard, Kevin Nevorski, Bradley Wells).  
Within the university community we understand that attending these meetings takes a lot of effort in preparations for talks and posters, as well as time away from other work and home.  With that in mind, a worthwhile meeting is one that has a full mix of sharing our research, learning from others about their research, along with professional networking and fun. For the Huckarelli lab, this meeting had it all!
Lab members presented a diverse array of talks and posters: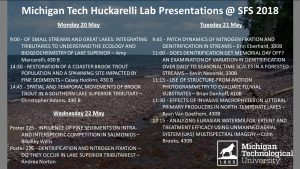 Spatial And Temporal Movements Of Brook Trout In A Southern Lake Superior Tributary – Christopher Adams, Casey Huckins, Amy Marcarelli (oral presentation)

Analyzing Eurasian Watermilfoil Extent And Treatment Efficacy Using Unmanned Aerial System (UAS) Multispectral Imagery – Colin Brooks, Amy Marcarelli, Amanda Grimm, Rick Dobson, Casey Huckins, Ryan Van Goethem, Robert Smith, Mark Clymer, Nicholas Marion (oral presentation)

Use Of Structure-from-motion Photogrammetry To Evaluate Fluvial Substrates – Brian Danhoff, Casey Huckins (oral presentation)

Patch Dynamics Of Nitrogen Fixation And Denitrification In Streams – Erin Eberhard, Amy Marcarelli, Colden Baxter, Stephen Techtmann (oral presentation)

Restoration Of A Coaster Brook Trout Population And A Spawning Site Impacted By Fine Sediments – Casey Huckins, Anthony Matthys, Brian Danhoff, Amy Marcarelli, Edward Baker (oral presentation)

Of Small Streams And Great Lakes: Integrating Tributaries To Understand The Ecology And Biogeochemistry Of Lake Superior – Amy Marcarelli, Ashley Coble, Karl Meingast, Evan Kane, Colin Brooks, Ishi Buffam, Sarah Green, Casey Huckins, David Toczydlowski, Robert Stottlemyer (oral presentation)

Does Denitrification Get Memorial Day Off? An Examination Of Variation In Denitrification Over Daily To Seasonal Time Scales In A Forested Streams – Kevin Nevorski and Amy Marcarelli (oral presentation)




Denitrification And Nitrogen Fixation – Do They Occur In Lake Superior Tributaries? – Andrea Norton, Kevin Nevorski and Amy Marcarelli (poster presentation)

Effects Of Invasive Macrophytes On Littoral Primary Producers In North-temperate Lakes – Ryan Van Goethem, Amy Marcarelli, Casey Huckins (oral presentation)

Influence Of Fine Sediments On Intra- And Interspecific Competition In Salmonids – Bradley Wells and Casey Huckins (poster presentation)

 
Seven of these presentations were part of special sessions: Marcarelli and Norton participated in the session "Crossing boundaries: watershed-tributary-lake exchanges in the Great Lakes region"; Adams, Huckins and Wells in the session "Crossing Brook Trout Boundaries: Interdisciplinary Approaches to Salvelinus fontinalis Research, Management, and Outreach", and Brooks and Van Goethem in the session "Aquatic Invasive Species in the Laurentian Great Lakes Region"
The crew were also visible in many special events and happenings around the conference.  Dr. Marcarelli was completing a 1-year term as Vice President of the society, and ran the annual board of directors meeting and society business lunch.  Dr. Huckins participated in the 2018 workshop "Inclusive and accurate approaches for teaching sex and gender in Biology". Ryan Van Goethem received an endowment award to support his research and travel to the meeting.  Kevin Nevorski finished second in the annual SFS Fun Run. Erin Eberhard was on the organizational committee for the live auction to raise funds for student endowment award. And Dr. Marcarelli won the first annual SFS Lip Sync competition, thanks to an impressive team of back up dancers including Dr. Huckins and others from the Huckarelli Lab.
https://twitter.com/kimhlisa/status/999107220410335232
We caught up with lab alumni including Ashley Coble (PhD Biology 2015), Jade Ortiz (BS Biology 2015), and Michelle Kelly (BS Environmental Engineering 2017).  We also made many great connections for the future – for example, discussions and new professional connections at the meeting have already resulted in 2 submitted preproposals to extend our ongoing work on invasive species ecology, control, and prevention. Now Dr. Huckins and Chris Adams are preparing to also present their research on Coaster Brook Trout (charr) next week at the 2018 International Charr Symposium (http://charr.glfc.org/#home), which meets every 3 years.
To check out more details of our meeting activity, check out new posts with photos on the Marcarelli lab blog http://streamnitrogen.mtu.edu/, and follow us on Twitter (search #2018SFS, @Erin_K_Eberhard and @KNevorski).
Couldn't be more proud of this crew and the past week in Detroit at #2018SFS. It is now time to sleep. See you in Salt Lake City next year at #2019SFS #dayinthescilife pic.twitter.com/VPBucCqmny

— Dr. Amy Marcarelli (@AmyMarcarelli) May 25, 2018
We are proud of our group and thankful to all of those who organized and supported the meeting.  We'd particularly like to thank the Great Lakes Research Center for sponsoring the meeting – it was great to see Michigan Tech acknowledged in each plenary session and in the program book!